"The smart and stylish 'The Dash Between the Dates,' a strong folk-pop album built around striking lyrical ruminations on love, loss and mortality." -Chicago Tribune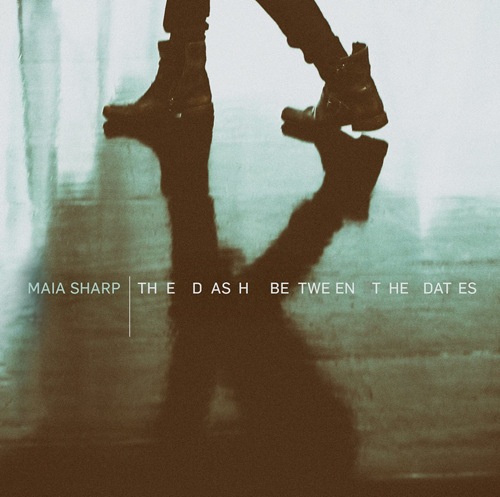 "Maia Sharp has had her compositions recorded by the likes of the Dixie Chicks, Bonnie Raitt, Cher, Keb' Mo', Trisha Yearwood, and many more, but even more impressive is the body of recorded work she's amassed on her own as a solo artist…[a] songwriter of grace and taste, she has an uncanny knack for subtle, simple poetry and an ear for a tremendous hook, all of which are on display on the title track from her upcoming sixth album The Dash Between the Dates." -PopMatters
Maia Sharp on her new album The Dash Between The Dates: It's not a concept album, but I was trying to look at things with a wider-angle lens and bring more breadth to the songs without sacrificing the intimacy. Maybe that's the concept.
In a career that spans two decades, the California native has established a reputation as a songwriter's songwriter, possessing a seamless sense of craft as well as an uncanny knack for cutting straight to the heart of complex emotional issues. In the process, she's won a passionate grass-roots fan base, while seeing her compositions covered by artists from across the musical spectrum.
Recommended if you like
Bonnie Raitt
Joni Mitchell
Sheryl Crow
Sharp co-produced the new album with multi-instrumentalist and longtime collaborator Linda Taylor. In addition to Sharp's vocals, guitar, keyboards and saxophone, and Taylor's guitars, bass, keys and programming, The Dash Between the Dates features notable contributions from Eurythmics co-founder Dave Stewart, who co-wrote and plays guitar on Maybe Tonight; acclaimed solo artist Lizz Wright, whose distinctive tones enrich You Know Where I'll Be and I Don't Want Anything to Change; singer-songwriter Gabe Dixon, who sings on Underneath; legendary vocalist Arnold McCuller, who adds his voice to Nothing But the Radio, Phoenix and Real Love.
"You might like if you enjoy: Grace Potter, Vonda Shepard, Bonnie Raitt…[Maia Sharp is a] singer-songwriter of incredible depth, it's no wonder that the rest of the world seems to fade away when listening to Maia Sharp's latest album "The Dash Between The Dates." Confessional, intelligent and lush arrangements of original songs probing life's far-flung corners fill the 12-song disc. The soulful infectious lead-off track "Nothing But The Radio" is a romantically-charged tune adorned with a full horn section, the tender "Underneath" takes a introspective look at understanding one's self with thrilling beauty." -MusicNewsNashville.com
More from Maia: I love being on a team, and there's no better ego boost than when people you admire want to be part of your team. Getting that kind of validation is like a B-12 shot to the soul, and it was definitely a big highlight of making this album.
---
"I'm an absolute sucker when it comes to talented women singer-songwriters. The great ones have a way to string clear, touching lyrics in line with catchy tunes that touch your soul. Maia Sharp is one of the best. I'm sold. -Ron, Music Discovery Network
---
The emotional urgency of Sharp's new songs reflects the fact that most of them were written during a period in which the prolific tunesmith battled, and eventually overcame, a creative crisis that had left her feeling disconnected and unsure of her next move.
"'The Dash Between the Dates' may be her most accomplished set of work yet – the full package of melodies, lyrics and earthy soul that brought her to the attention of world-renowned fellow musicians in the first place." -Patriot Ledger
As The Dash Between the Dates makes clear, she's emerged from her experiences with a renewed sense of purpose.
Her final words on the album: Writing these songs and making this album took me to a place where I had to dig deeper. I feel stronger and better equipped because of that, like I have more tools in the belt, and I'm enjoying the work now more than ever.
1 Nothing But the Radio
2 The Dash Between the Dates
3 Underneath
4 You're Alive
5 Poison the Well
6 Real Love
7 Maybe Tonight
8 Little Bottles
9 Phoenix
10 You Know Where I'll Be
11 Stay
12 I Don't Want Anything to Change
Maia Sharp web site: Press, Bio, Quotes, Artist, Songwriter, Producer, Tour Dates, Store